Looking for a city in which knowledge is growing and thriving? This joint initiative of the city and its universities keeps you informed about science and the art of engineering in Aachen.
Start-ups and spin-offs, research institutes and R&D-departments, the Digital Hub, Campus West and primary school children learning to program: because more and more knowledge is constantly coalescing in Aachen, because the city's leading scientific players are cultivating ever closer and more successful exchanges of knowledge – and in this way attracting ever more networking contacts – the city is growing, intellectually and spatially. With Campus Melaten and its new university buildings, along with local branches of partners in the industrial sector, a whole new district has emerged – almost as large as the historic town centre. And Campus West is currently under development.
The universities are the ones setting the pace. To enable all local residents to keep themselves up to date on all the exciting stuff going on in the labs and on the test stands, Future Lab Aachen was founded in 2016, as an alliance of the RWTH and the FH Aachen, the Catholic University (KatHO) NRW, the College of Music and the City of Aachen. Future Lab is the umbrella brand of Aachen as a city of science. It is a label for large-scale and smaller activities and events relating to the topic of science, in both familiar and innovative information formats.
The primary instrument of communication is the Future Lab website. The events calendar shows – at a glance – just how many scientific events there are in Aachen (and, of course, what they are about): around 500 a year, all of them open to everyone!
The Magazine profiles scientists, explains research projects, reports on inventions and breakthroughs being made here, reviews the new campus architecture, interviews Aachen residents about their thoughts on and experiences with technologies of tomorrow …
The new information formats also include a number of lighthouse projects: the Future Lab-App, Archimedes' Sandbox, the "Studi-Bühne" (music concerts for students), the "Studi-Film" (film nights for students) , the Future Lab Gala!, the 3D-pixel mapping of the Town Hall and the Cathedral, the Geometry Lab in the Ludwig Forum Aachen, the Fafnir Exhibition in Centre Charlemagne …
All this goes to show that Aachen loves excellence – in a lively atmosphere which guarantees that sought-after top talents will feel at home in this region, in this family-friendly city of science: Aachen.
RWTH Aachen has set clearly defined goals for itself. By the year 2020, it aims to be the best German university of technology and one of the top five in Europe as measured by academic output, by the quality of its graduates, and by external funding.
The Excellence Initiative of the German federal and state governments provided a huge boost to the further development of RWTH Aachen.  In the process it has gained great momentum, which can be seen, among other things, in extensive building activities and comprehensive staff development activities.
With its 260 institutes in nine faculties, RWTH Aachen is among the leading European scientific and research institutions. 45,000 students in 152 courses of study are registered, including nearly 8,000 international students from 125 countries. Teaching at RWTH Aachen is first and foremost application-oriented. Its graduates are therefore sought-after as junior executives and leaders in business and industry.
Again and again, the University achieves top positions in both national and international university rankings. Over the last years, RWTH has been constantly voted into the top three in the technology subjects and the natural sciences.  Receiving 143.5 million Euros in research funding from the German Research Foundation DFG, RWTH comes in first place among the German universities.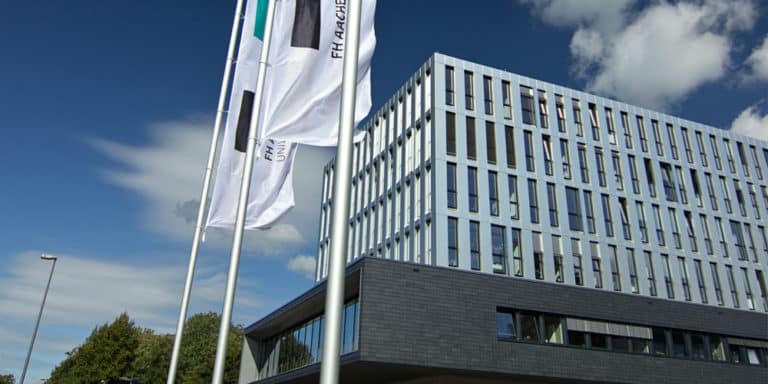 With more than 14,000 students, almost 2,000 graduates a year, ten faculties, more than 70 degree programmes, nine in-house and three affiliated institutes as well as four competence platforms, the FH Aachen University of Applied Sciences, with its Aachen and Jülich locations, is one of the biggest and most important universities of applied sciences in Germany.
Around 250 professors as well as approximately 900 employees work here, in teaching, in research and in administration.
The FH Aachen offers its students a first-rate course of study in modern and trendsetting professions. Apart from the traditional MINT-subjects, such as mathematics, informatics, natural sciences, and technology, the range of courses offered by the university also includes business studies and design. In line with market requirements, the more than 70 Bachelor's and Master's degree programmes aren't just offered as full-time courses of study, there is also an ever increasing number of dual study programmes.
Teaching is the primary task of the FH Aachen. The defined goal is preparing students optimally for work life. Students are provided with individual personal support which allows for an intense exchange of knowledge and experience with the teaching staff. Through application-oriented research and development, students are optimally prepared for their practical professional careers after graduation.
When it comes to research, the FH Aachen strives to be among the strongest universities of applied sciences in Germany. The competences are mainly in the future areas of energy, mobility, and life sciences. The latest research results are directly incorporated into teaching.
Through the close cooperation with regional small and medium-sized businesses (SMEs), the university and business enterprises collaborate on the development of products and methods which provide added value directly in the region. The FH Aachen trains and educates young women and men who assume responsibility in regional businesses and contribute to the development of local trade and industry by applying their research-related expert knowledge and methodological skills.
The expansion of regional, national and international networking in teaching and research is an essential part of the FH Aachen's plans for the future, especially with regard to the euroregional location of the campuses in Aachen and Jülich, in immediate proximity to Belgium and the Netherlands. A further decisive step is offering international degree programmes. These are taught in English and, thereby, pose fewer barriers for foreign prospective students. In this context, the cooperation with numerous and significant foreign partner universities of the FH Aachen are particularly attractive.
The FH Aachen's Freshman Institute prepares students from all over the world for a further course of study in Germany. Imparting language skills as well as content competence in a highly focused manner enables students to seamlessly commence a Bachelor's degree programme in North Rhine-Westphalia.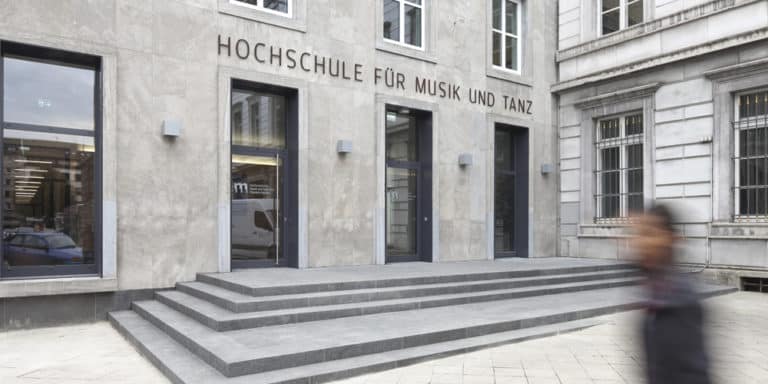 Here at the heart of the city, right across from Theater Aachen, is the newly designed and renovated Aachen campus of the "Hochschule für Musik und Tanz Köln".
It provides students and faculty with the ideal facilities for music education: soundproof practice rooms, rooms for chamber music, a/v-equipped classrooms for music theory, a large orchestral rehearsal hall, an opera studio, a new library, and a student internet café.
The new concert hall, acclaimed by musicians and concertgoers alike, gives students countless opportunities to perform in public – and so complete an important part of their education. More than 150 concerts and other musical events take place here each year, with students and staff enriching the already diverse cultural life of Aachen and the surrounding region.
Including the campuses in Cologne and Wuppertal, a total of around 1800 young musicians are enrolled at the "Hochschule für Musik und Tanz".
At the Aachen campus, the focus is on instrumental and vocal performance. A source of ample opportunities for practical experience is the close, longstanding collaboration with Theater Aachen, which gives vocal students the chance to appear regularly in its opera productions and provides internships for instrumentalists and dancers. What is more, once a year Theater Aachen stages an opera production whose entire vocal and instrumental ensemble consists of students from the three campuses of the "Hochschule für Musik und Tanz". In addition to Theater Aachen, students regularly perform with other partners, appearing at such venues as the Schloss Rahe, the historical Octogon "De Kopermolen" in Vaals, and in the coronation room at Aachen city hall.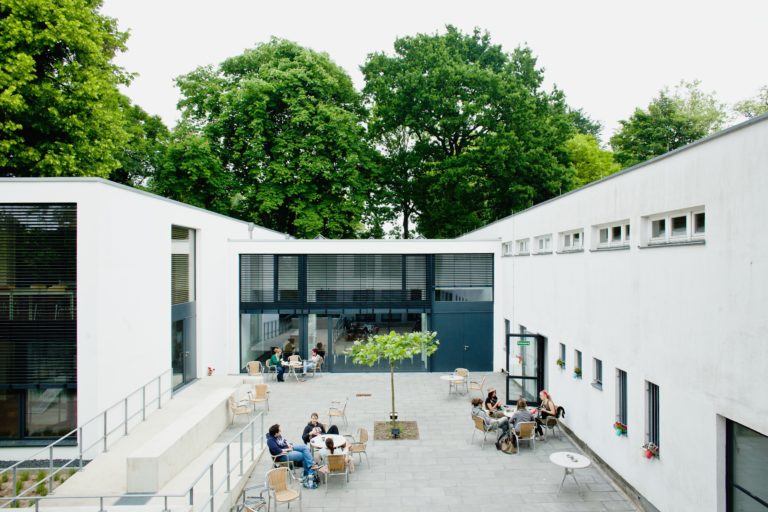 The Catholic University of Applied Sciences at Aachen (KatHO Aachen) takes the top position among the best Social Work programs nationwide (CHE Ranking) and is the sole academic facility for Social Work in the Aachen area.
KatHO Aachen constitutes one of four departments of the overall KatHO NRW (the other sites are Cologne, Münster and Paderborn). The intra-urban campus is dominated by a landmarked edifice built by Rudolf Schwarz in Bauhaus style.
The university's philosophy comprises both: regional rootedness and international orientation. Numerous projects, alliances and contacts between KatHO Aachen and organizations in the domain of social, educational and health services bear witness to the strong linkage with local, regional and cross-border partners. In recent years, in the field of artistic cultural practice an inventive network evolved by establishing the Center for Aesthetics and Communication (ZÄSKO). International cooperations with universities around the world (among others in the US, Japan, Turkey, Belgium and the Netherlands) facilitate excursions, internships and studies abroad.
The BA Program Social Work offers both a regular full-time study course and a – nationwide unique – part-time study course especially for parental students. The program provides science-based multidisciplinary skills and methodological expertise in the diverse areas of Social Work. Having completed six semesters (three years) of studies, BA students graduate from university and obtain the state-approved professional qualifications Social Worker and Social Education Worker.
The MA Program Social Work is strongly focused on research and it encompasses two study courses: one centered on Education and Participation, the other on Clinical/Therapeutical Social Work. From the outset, graduate students are embedded into several research networks and units, such as the Institute for Social Psychiatry (igsp), the German Institute for Addicition and Prevention Research (DISuP) or the respective research groups on Gender and Transculturality, Social Participation, Geriatric Supply, Education and Diversity, Addiction and Mental Health. Additionally, KatHO Aachen offers two extra-occupational Master's Degree Courses in "Cooperative Management" and in "Marriage, Family and Life Counseling" plus professional training courses to become an Educational Art Therapist or a Child Protection Specialist.
KatHO Aachen provides extensive support and advisory services (psychological counseling, legal advice, parental counseling). The familiar atmosphere and the face-to-face mentoring are highly appreciated by our students. Besides teaching in step with actual practice, the university attaches great importance to self-development and character building.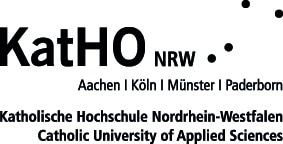 Das Wissenschaftsbüro der Stadt Aachen fungiert als zentrales Bindeglied zwischen Wissenschaft und Stadtgesellschaft. Über Veranstaltungen und Projekte intensiviert es die Zusammenarbeit zwischen Verwaltung und Forschung und macht Wissenschaft in Aachen erlebbar und begreifbar.