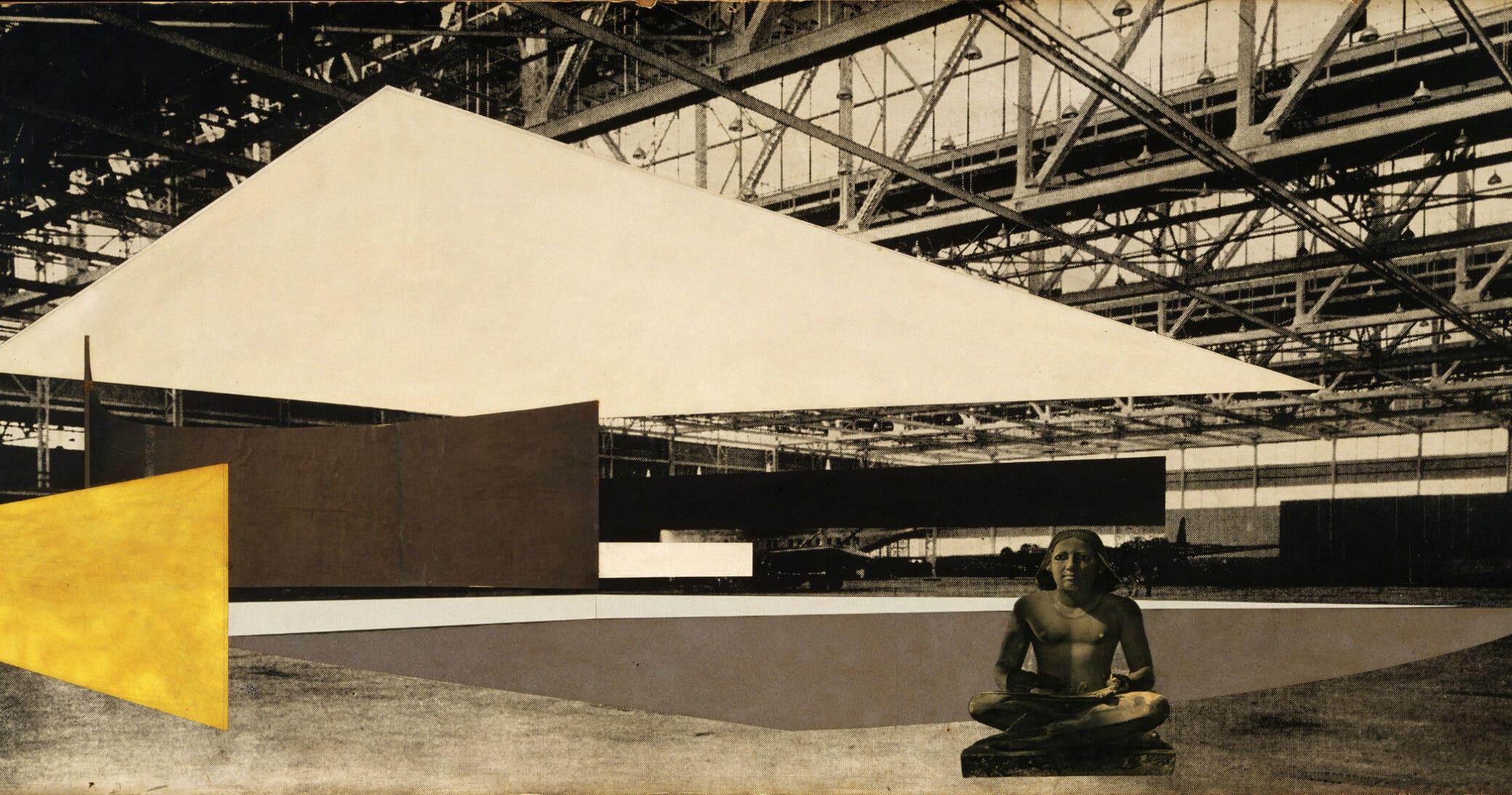 Ludwig Mies van der Rohe was one of the greatest architects of the 20th century. He was born and educated in Aachen 130 years ago. Now the Ludwig Forum Aachen is celebrating Mies with an exhibition of collages and photo compositions by the architect from the New York Museum of Modern Art.
Ludwig Mies van der Rohe (1886–1969) created numerous collages between 1910 and 1965 that are fascinating illustrations of the design principles of his architecture. These works, most of them large-format, are far more than merely sketches that accompanied his creative process as an architect. They are works of art in their own right that – free of practical constraints and commitment to specific purpose – show Mies van der Rohe's vision in its purest form, the essence of his creativity in abstract space. Now – to mark the 130th anniversary of the Aachen-born architect – the Ludwig Forum Aachen has organized a first-time exhibition of his collages and photomontages (28th October 2016 – 12th February 2017), set in the context of modern and contemporary art and featuring a comprehensive collection of loans from New York's Museum of Modern Art.
Apprenticeship in Aachen
Maria Ludwig Michael Mies was born in Aachen, as the fifth and youngest child of the master stonemason Michael Mies and his wife Amalie Rohe, whose maiden name he added – after 1921 – to his name at birth, with the addition "van der".
Mies van der Rohe followed the tradition of the master builder. Without any classic university education, he learnt his skill from scratch. After attending the Cathedral School, Mies worked in his father's business, where he established his profound knowledge of craftsmanship and materials. When we look today at the clear lines of his architectural works, so emblematic of the modern era, it is hard to believe that the 17-year-old apprentice learnt his draftsmanship skills by copying the ornaments in the stucco-plasterer's workshop of Max Fischer (Monheimsallee 50).
Between 1901 and 1905, Mies worked in Aachen as an assistant on various construction sites and as a draftsman in architecture firms. It was in this context that he worked on the facade design for the new store of Leonhard Tietz on the Market Place, which was planned by the architecture firm Schneiders. This job led to first contacts with Berlin, after Tietz commissioned the Berlin firm Bossler & Knorr with the construction management.
A revolutionary in the construction world
In 1905, 19-year-old Mies left Aachen for good, heading for Berlin, where he soon made contact with circles of avant-garde artists and architects (Dada and Werkbund). By the early Twenties he had already made quite a name for himself in the debate about "New Construction". His preference for traditional, high-quality building materials (stone, marble), which he had acquired in his Aachen years, became blended with what were at first still visionary designs based on innovative materials and construction methods.
His glass skyscrapers and steel frame structures were so far ahead of their time and so visionary that they were still technically unfeasible. As theoretical projects, they were a substantial contribution to the further development of modern architecture. But it was not only with his notion of materiality that he revolutionised the construction world – it was also with his novel comprehension of space – the dissolution of classic room division and the connection of exterior and interior space. All of these concepts are realised, for example, in the German Pavilion at the World Exposition 1928/29 in Barcelona, one of his masterpieces and the building that ultimately brought him world renown. The "Barcelona Chair", specially designed for that very building, is today hailed as a design classic. Even while he was the Bauhaus Director (1930-33), Mies kept in touch with his home town, especially to his brother, Ewald Philipp. In fact, Mies consulted Ewald, who ran a natural stone business, in questions of material selection and procurement.
After emigrating to the USA, Mies visited Aachen several times, taking the opportunity in 1950 to enter his name in the city's "Golden Book".


Exhibition in the Ludwig Forum Aachen:
Mies van der Rohe
The MoMA Collages
28th October 2016 – 12th February 2017

Address:
Jülicher Straße 97-109, 52070 Aachen,
Tel.: +49 241 1807-104
www.ludwigforum.de