200 kg, 120 km/h and a streamlined design- the FS 19, the Aixtreme Racing Teams' new speedster, which the 20 students are taking to the track in 2019 to compete against other teams.
These three young persons are wearing the same T-shirt. What else do they have in common? Julia (22) studies Linguistics and Communication Science at the RWTH Aachen; Katja (24) is a teaching student at the University of Cologne; and Raphael (24) is currently doing his Bachelor in Automotive and Drive Technology at the FH Aachen. They have all worked on the construction of the brand new, mint-coloured racing car FS19 that will soon be conquering the circuits in Austria, the Czech Republic and Germany. A college experimental game has grown into a reality: 400 racing teams from all over the world are set to meet again this year to measure their strengths in the construction competition "Formula Student".
3rd generation speedster
On 9th July, the 20-student-strong Aixtreme Racing Team proudly presented the third generation of the Aixtreme speedster, which they have been working on since November 2018 and which, over the years, has continuously got lighter and faster. The vehicle with its internal combustion engine manages 0 to 100 km/h in just 4 seconds. It has a top speed of 120 km/h and a tare weight of just under 200 kg. Katja sees these specs alone as good reason to hope for title placings in this or that category…
Interdisciplinary collaboration
From conceptualisation to construction, from development of a business plan to acquisition of sponsors, the 20-strong team of students have put learnt theory into practice. By the way, it doesn't matter which course of studies a team member is enrolled for, or at which university. Prof. Baumann, Rector of the FH Aachen, will gladly raise a glass to that fact with you. He'll also tell you that, in his opinion, "The team is an excellent example of professional interdisciplinary collaboration that involves not only a range of different disciplines but even a range of universities in order to achieve top achievements. I can't express often enough just how proud I am of our students."
New sponsors and new additions to the Aixtreme Racing Team are always welcome. And, of course, there's that cool T-shirt, too.
11.07.2019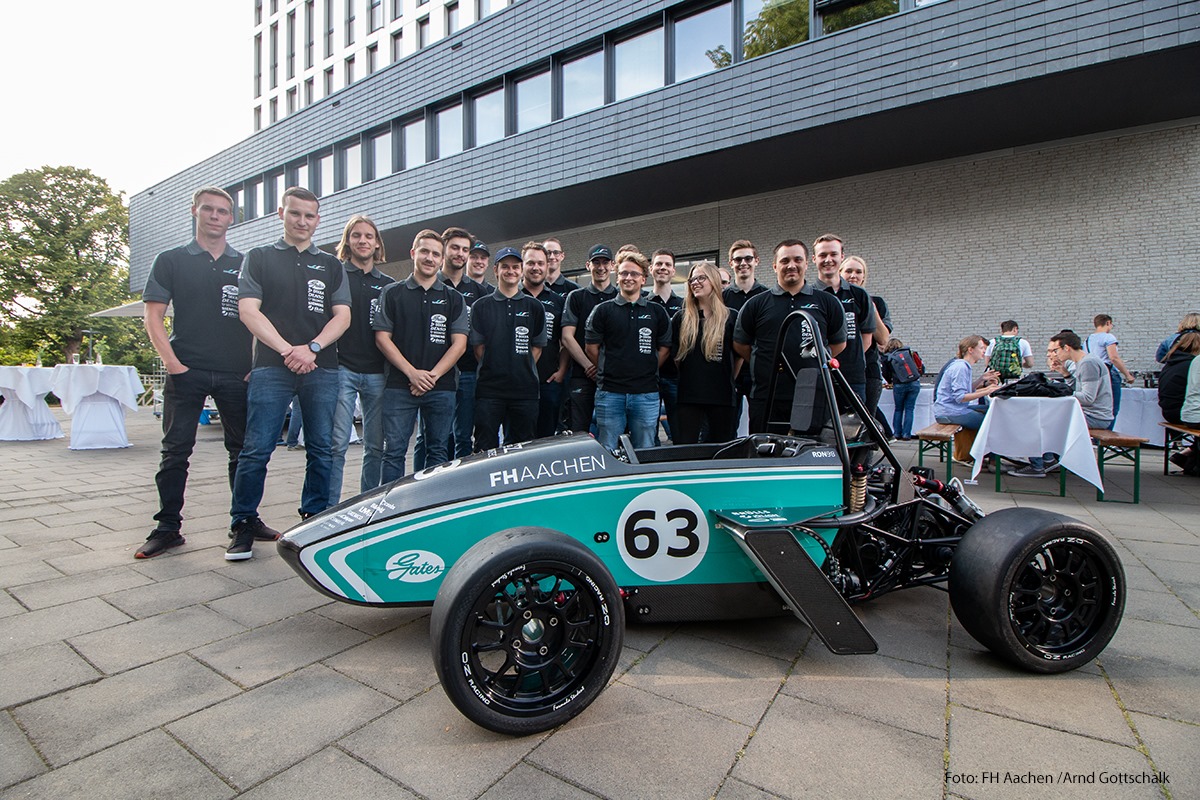 All members of the Aixtreme Racing Team proudly presenting their new, mint-coloured speedster. Photo: Arnd Gottschalk